USB Rubber Ducky
Der USB-Rubber Ducky von Hak5 ist ein Tastenanschlag-Werkzeug, das als generisches Flash-Laufwerk getarnt ist. Computer erkennen es als eine normale Tastatur und akzeptieren vorprogrammierte Tastenanschlag-Payloads bei über 1000 Worten pro Minute. Mr.Robot hacking tool.
Payloads werden mit einer einfachen Skriptsprache gefertigt und können verwendet werden, um Reverse-Shells, Inject-Binaries, Brute-Power-Pin-Codes und viele andere automatisierte Funktionen für Penetration Tester und Systemadministratoren.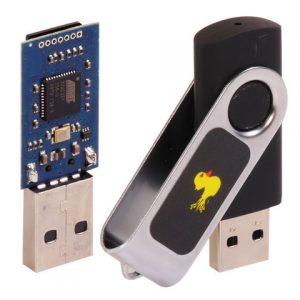 Der USB Rubber Ducky ist bei Hackern, Penetrationstestern und IT-Profis beliebt. IT-Automatisierung HID mit einem eingebetteten Dev-Board, eine vollwertige kommerzielle Keystroke Injection Attack Platform. Der USB-Rubber Ducky eroberte die Phantasie der Hacker mit seiner einfachen Skriptsprache, der effektiven Hardware und dem verdeckten Design.
Fast jeder Computer mit Desktops, Laptops, Tabletten und Smartphones nimmt die Eingaben von den Menschen über Keyboards an. Einfach ausgedrückt, wird jedes USB-Gerät, das behauptet, ein Keyboard HID zu sein, automatisch erkannt und von den meisten modernen Betriebssystemen akzeptiert. Ob es sich um ein Windows-, Mac-, Linux- oder Android-Gerät handelt, das Keyboard ist King.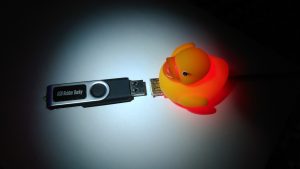 Durch die Nutzung dieses inhärenten Vertrauens mit skriptgesteuerten Tastenanschlägen bei Geschwindigkeiten über 1000 Worte pro Minute können herkömmliche Gegenmaßnahmen von diesem unermüdlichen Soldaten – dem USB-Rubber-Ducky – umgangen werden.
USB Rubber Ducky kaufen – HackmoD
USB Rubber Ducky. Take Social Engineering to the next level with a USB Rubber Ducky Deluxe Hak5 hidden inside an inconspicuous "thumb drive" case. All the fixings included. Hack like Mr.Robot with the USB Rubber Ducky.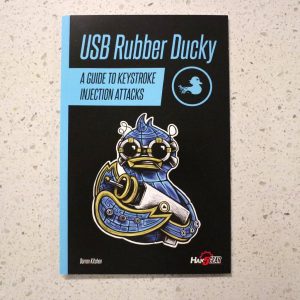 Mr.Robot Hacking Tool – USB Rubber Ducky Hak5