LAN TURTLE
Die LAN Turtle ist ein verdecktes Systemadministration und Penetration Testing Tool, das Stealth Remote Access, Network Intelligence Gathering und Man-in-the-Middle-Überwachung durch eine einfache Grafik-Shell ermöglicht.
Ein unscheinbarer "USB Ethernet Adapter" – LAN Turtle passt sich in die normale IT-Umgebungen an.
Die LAN Turtle ist mit Features für den Remote-Zugriff, Man-in-the-Middle und Netzwerk-Recon gerüstet. Code eins in bash, python oder php mit einer einfachen API.
PENETRATIONS TEST
Pivot mit Meterpreter-Session in Metasploit.
Scannen Sie das Netzwerk mit nmap.
DNS-Spoof-Clients zu Phishing-Sites.
Exfiltrate Daten über SSHFS.
Man-in-the-Middle-Inline-Computern, die den Browser-Verkehr erfassen
SYSTEMS ADMINISTRATOREN
Zugriff auf das gesamte LAN über ein Site-to-Site VPN mit dem LAN Turtle OpenVPN Client als Gateway. Automatisieren Sie ein Management-Skript mit den Ergebnissen, die jede Stunde per E-Mail gesendet werden.
TECH ENTHUSIASTS
Write code on the openwrt-based Linux platform for any inline Ethernet application.
Maintain access to your home network from anywhere using a persistent reverse SSH shell.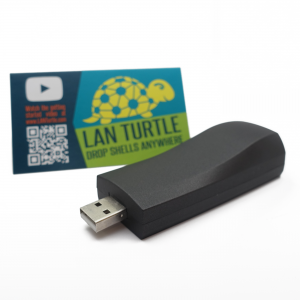 LAN Turtle Hak5. The LAN Turtle is a covert Systems Administration and Penetration Testing tool providing stealth remote access, network intelligence gathering, and man-in-the-middle surveillance capabilities through a simple graphic shell.