HackRF One Software Defined Radio
Der HackRF wurde von Michael Ossmann entworfen, einem Computer-Sicherheitsforscher, der von der DARPA ein Entwicklungsstipendium erhielt. Seine Firma heißt "Great Scott Gadgets".
Die HackRF unterscheidet sich von anderen SDRs dadurch, dass sie sowohl empfangen als auch senden kann.
Der Entwickler des HackRF Michael Ossmann hat einige Videos bzw.Tutorials für SDR wie z.B.Den HackRF One. Themen wie Digital Signal Processing oder Dezibel bis zu komplexen Zahlen bieten die Videos einen Überblick zum Thema SDR mit GNU-radio und HackRF.
https://greatscottgadgets.com/sdr/
HackRF One von Great Scott Gadgets ist ein SDR Software Defined Radio-Gerät, das Funksignale von 10 MHz bis 6 GHz senden oder empfangen kann. Der HackRF One ist eine Open-Source-Hardwareplattform, die als Test- und Entwicklungsplattform für moderne und neueste Funktechnologien eingesetzt werden kann und als USB-Peripheriegerät oder für den Stand-Alone-Betrieb programmiert werden kann. In Verbindung mit dem PORTAPACK wird der HackF One mobil und effizient! Hack RF One bei HackmoD kaufen
10 MHz to 6 GHz operating frequency
half-duplex transceiver
up to 20 million samples per second
8-bit quadrature samples (8-bit I and 8-bit Q)
compatible with GNU Radio, SDR#, and more
software-configurable RX and TX gain and baseband filter
software-controlled antenna port power (50 mA at 3.3 V)
SMA female antenna connector
SMA female clock input and output for synchronization
convenient buttons for programming
internal pin headers for expansion
Hi-Speed USB 2.0
USB-powered
open source hardware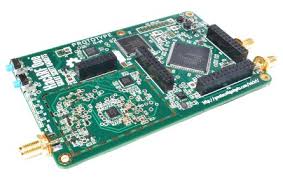 Kompatibel mit SDR #, HDSDR und SDR-Konsole unter Windows, GQRX unter Linux und RF Analyzer unter Android.
Mehrere Programme in Code-Form auf GitHub, aber nicht viele "Plug-and-Play" -Apps. Entwickelt, um mehr mit Software wie GNU Radio verwendet zu werden.
Der HackRF hat nur zwei Gain-Regler, LNA und VGA, aber es gibt auch eine Option, um den MGA-81563 Front-End-Verstärker mit dem Amp-Kontrollkästchen zu aktivieren.
The sample rates available are 8, 10, 12.5, 16 and 20 MSPS.